Tap Water Sources in Remote Locations
TurboDraft™ Fire Eductor allows companies to tap into remote water supplies like ponds, lakes, streams, and swimming pools up to 250' away and generate usable fire flows to 670 GPM or more using standard 5" LDH and 2½" fire hose. TurboDraft CS (Changeable Strainer) Fire Eductor provides departments the option to connect to a wide selection of standard 6" NH strainers to meet any water supply situation. The unit will also improve the effectiveness of dry hydrants and vertical suction standpipes.
TurboDraft Operation
Usable fire flow amounts will vary based on elevation and hose friction loss. Greater usable flow rates are achievable depending on hose friction loss coefficients or when utilizing 6" large diameter hose. Field testing should be conducted to confirm actual flow rates for each given hose configuration. (See Distant Water Source Situation table below for baseline numbers).
Features
Overall Length: 44 7⁄8"
Weight: 41 lbs.
Connections: 2 ½" NST Female Inlet;
5" Storz Male Outlet
Shipping Dimensions: 48"L x 16"W x 16"H
Shipping Weight: Domestic: 64.5 lbs.
International: 64.5 lbs.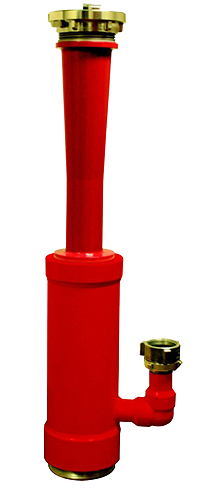 Distant Water Source Situation
Length of
5" Hose
Lift
Pump Discharge
Pressure
Base Line
Fire Flow
50'
10'
20'
175 psig
175 psig
670 gpm
470 gpm
100'
10'
20'
180 psig
180 psig
570 gpm
400 gpm
150'
10'
20'
185 psig
185 psig
480 gpm
325 gpm
200'
10'
20'
190 psig
190 psig
440 gpm
280 gpm